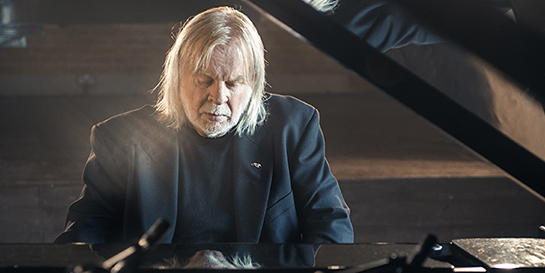 The UMC team are today celebrating Rick Wakeman's Piano Portraits entering the chart at number seven, the first album featuring just "two hands and a piano" to chart inside the Top 10.
The album charted higher today than Keith Jarrett's Koln Concert, the all-time best selling piano-only album from 1975.
Revered keyboardist, songwriter and broadcaster Rick Wakeman recorded Piano Portraits prompted by the unprecedented reaction to his performance of David Bowie's Life on Mars on BBC Radio 2 earlier on this year.
UMC's co-managing director Richard Hinkley says, "What makes Piano Portraits so beautiful is its simplicity – it's two hands and a piano – nothing else is needed. Rick's playing and arrangement on the album is simply stunning."
The 15-track collection ranges from landmark David Bowie hits Life on Mars, for which Wakeman recorded the original piano parts, and Space Oddity to which he contributed mellotron; through The Beatles, Yes and Led Zeppelin; to classical pieces composed by Debussy and Tchaikovsky.
UMC's campaign manager James Meadows says, "We started early on when Rick was still recording the album at this beautiful studio called the Granary in Norfolk, near where he lives. I took a film crew up there and we filmed him playing through some of the tracks on a Steinway piano in this tranquil location and it immediately clicked and we managed to capture the feel of the music and portray that with the visual aesthetic of the videos."
"Listening to Rick play Clair de Lune and Space Oddity you can't help but feel moved by the performance and that set up the whole plan for things moving forward."
Response from fans, new and old, has been overwhelming for the release. One comment left online describes the feelings toward the album perfectly - "This feels like a moment of calm in a world of chaos."