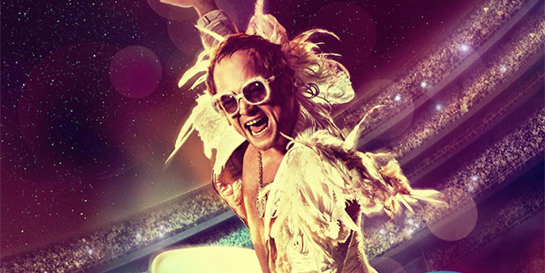 Another blockbuster soundtrack is looming with Virgin EMI preparing for the May 24 release of Rocketman, the music from Elton John's epic musical fantasy motion picture.
The film tells the universally relatable story of how a small-town boy became one of the most iconic figures in pop culture, and is set to Elton's most beloved songs, which are performed by the film's lead actor Taron Egerton. The soundtrack will follow the film's release in UK cinemas on May 22.
Yesterday saw Rocketman's premiere at the Cannes Film Festival, which included a duet by Elton and Taron who were both moved to tears by the audience's standing ovation. The film has already secured a flurry of positive press with The Telegraph's 5* review declaring the film a "heart-racing, toe-tapping, deliriously entertaining triumph", while The Guardian describe it as an "honest, heartfelt tribute to Elton John's music and his public image". The Independent has given Taron's performance a rave review while stating the film is a "rousing and emotional affair with an operatic sweep".
The key task in creating the soundtrack – led by producer and composer Giles Martin at Abbey Road Studios - was taking Elton's unparalleled back catalogue and reimagining it to fit the narrative of the film, including the transformation of Saturday Night's Alright for Fighting into an epic ensemble piece, and the morphing of I Want Love into a heart-breaking moment of conflict around a young Elton's family meal.
The 22 tracks, recorded between 2017 and 2019 at Abbey Road Studios and AIR Studios, feature a brand new Elton John and Bernie Taupin composition I'm Gonna Love Me Again performed by Elton and Taron Egerton.
Earlier this month, fans were treated to a taster of the album with Zane Lowe revealing the lead track Rocket Man – a stunning interpretation of Elton's 1972 classic - as the World Record on Apple Beats 1. Elton and Taron also took part in an 'in conversation' for the platform.