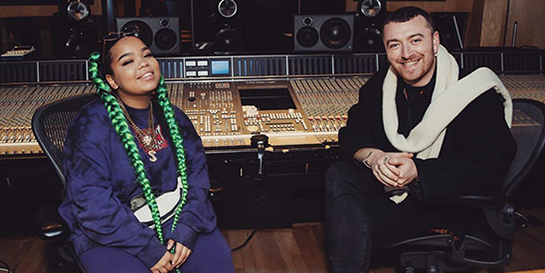 The team at Capitol have pulled out all the stops, from a world-exclusive livestream to a world-first AR partnership with Spotify, in the run up to today's release of Sam Smith's third studio album, Love Goes.
The record, which explores themes of heart-wrenching heartbreak and identity, follows the success of their first two albums, both number one, multi-platinum selling records in the UK and US. For Love Goes, Sam has enlisted a star-studded list of collaborators, from Labrinth to Steve Mac (Ed Sheeran, Celine Dion), Shellback/MXM (Robyn, Pink, Britney Spears), as well as good friend Guy Lawrence, one half of Island's Disclosure, and long-term collaborator Jimmy Napes.
To celebrate the release of the album, Sam returns to Abbey Road tonight for a world exclusive live performance, with interactive Q&A elements, special guests and exclusive merchandise. Tonight is the one and only opportunity Sam has to play a full live set in 2020, so they're making it an unmissable event for fans the world over.
Teasing fans with the setlist plastered on the iconic Abbey Road graffiti wall, they have confirmed that the set will include classic tracks from their hugely popular back catalogue, plus new tracks that will never have been performed to an audience before. The set itself will feature special guests, including a live Q&A with presenter and comedian Katherine Ryan, plus guest spots from Labrinth who features on the album's title track Love Goes.
Plus, Sam announced last night that Capitol's newest signing, Hamburg-based singer-songwriter Zoe Wees will be joining the performance. Speaking about the label's signing of the rising star last week, Capitol marketing manager Nick Adler says, "Thank you to our friends at Caroline for alerting us to their hottest record and artist of the year. Zoe is a very special young woman and we can't wait to continue her journey in the wider Universal system."
The team have also come up with some innovative initiatives to capture the digital audience, including a partnership with Spotify to create a three-dimensional performance of Diamonds in Augmented Reality. Sam's performance was captured in volumetric video from all angles, creating a true 3D recording. To access this unique video, fans have to scan the song's QR code on Spotify with another device, to be able to then look at the performance from every possible angle - with a surprise when you tap and hold on the video. This is the world's first AR video powered by Spotify.
In the run up to the album release, Sam has been getting stuck into promotion. They played their first BBC Radio 1 Live Lounge set in three years this week in anticipation of the release, as well as performing Diamonds on Graham Norton last Saturday, gracing the cover of Sunday Times Style Magazine on October 17, and having long conversations with Apple Music's Zane Lowe, and Jools Holland for a BBC Later… special. What's more, they took Vogue into their bathroom for an intimate and open conversation about skincare, beauty and identity, which went live this week.