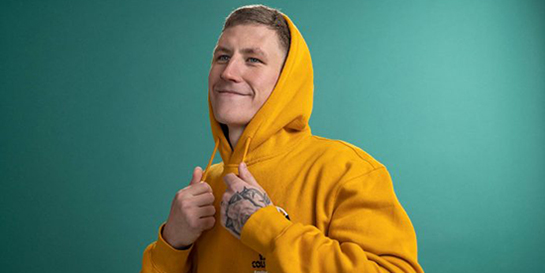 In a brilliantly bizarre turn of events, social media feeds across the globe have been swamped by a wave of sea shanties. Polydor were quickest off the mark to sign Nathan Evans, a Scottish postman who has found himself going from delivering parcels to delivering a huge hit for the label after his rendition of 19th century whaler's song Wellerman kickstarted the #ShantyTok phenomenon at the end of last year.
Nathan released his debut single last Friday, alongside the Wellerman remix by labelmate 220 KID & Billen Ted. On course for a top three finish this week, the remix was played on Capital radio by Mistajam just 20 minutes after it was mastered, later getting picked up by Radio 1's Scott Mills and slotting straight into New Music Friday playlists across Spotify, Apple, Amazon and Deezer, alongside featuring on Spotify's Hot Hits UK. The track is now playlisted across Radio 1, Radio 2 and Capital FM and has caught the attention of international media with momentum building in Germany, Canada, Holland, Sweden, France and the US, where it is number four in the iTunes US chart. The track has also been used over 170,000 times in four days on TikTok, making it one of the most reactive UK sounds on the platform.
The Polydor team signed Nathan and released his single within a matter of days, and the ex-postie seems to have taken it all in his stride. Polydor Marketing Manager Silas Howison-Waughray says, "Nathan has been smashing out press interviews and content like it's nothing, he's been really reactive to it all. Based on his TikTok profile and the way he comes across on camera, we just feel like he was completely ready for this moment to happen, which is amazing considering he was a postman last Wednesday, and now he's a huge global viral sensation. We're very fortunate to have Nathan signed to Polydor."
Posts tagged with #ShantyTok have now generated 14.9m total views on the app, while Evans' cover of The Wellerman is now topping 6.7m views. Spotify has subsequently reported a 7000% increase in streams of the track, which was originally recorded and released by The Longest Johns, a Bristol-based group who have since been reeled in by Decca off the back of the recent viral success.
Formed back in 2012 from a mutual love of traditional folk songs and shanties, The Longest Johns have set out to reinvigorate the traditional genre over the last decade. Their version of Wellerman has now amassed more than 14m streams on Spotify after sitting comfortably at the top of the UK and Global Viral Charts this month, making it the first entirely acapella sea shanty to make the Official Chart Top 40, and becoming the Longest Johns' first chart success.
Jenni Champion, campaign manager at Decca says, "The emergence of #ShantyTok has taken the globe by storm in the last few weeks, and it's super exciting that Decca can be a part of this story by signing and working with the most authentic shanty band out there. The Longest Johns are masters of their craft and incredibly hard working musicians – we can't wait to bring their music to even bigger masses."
Fiona Pope, A&R manager and Creative Partnership at Decca says, "When it comes to sea shanties, The Longest Johns are the real deal. They have built an impressive business rooted in artistic integrity, and we're excited to be working with them globally to continue amplifying sea shanties on a worldwide stage for years to come."