Globally renowned artists Gilbert & George and Ai Weiwei will be designing record sleeves for Secret 7", the charity project which gives designers a chance to create an original vinyl artwork, this year raising money for ART AGAINST KNIVES.
Gilbert & George and Ai Weiwei are amongst 700 artists from all manner of disciplines who are contributing original artwork inspired by the following tracks: Elton John - Bennie & The Jets, HAIM - Better Off, Jessie Ware - Still Love Me, Laura Marling - The Beast, Nas - The Don, Nick Drake - Rider On The Wheel and Public Enemy - Harder Than You Think.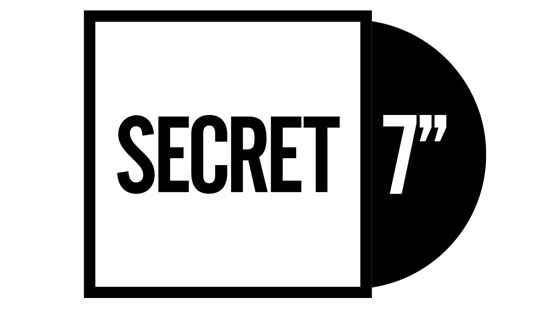 All of the 700 one-of-a-kind vinyl covers will be exhibited at Downstairs At Mother in London's E2 next month. For one weekend – April 13th and 14th - the public will be able to view the collection as a whole. The following weekend - on Record Store Day, April 20th - visitors will be able to take a small part of the exhibition away with them when the unique vinyl sleeves go on sale for £40 each. However, none of the buyers will know who created the sleeve, or even which song it's for, until they have parted with their cash - the secret lies within. The limited edition vinyl pressings have been pressed in collaboration with The Vinyl Factory.
Every penny profited is going to youth charity ART AGAINST KNIVES, to help fund creative initiatives supporting young people into education, employment and training across London. The money will go towards three projects- Role Models, In Our Hands and WORDforWORD. In addition, Secret 7" has already been working with ART AGAINST KNIVES to provide opportunities across design, photography and filming for the young people that they work with.
This is the second year that Secret 7" has been running. In 2012, an incredible £33,500 was raised for charity. Artists including David Shrigley, Toby Mott (who designed the sleeve for De La Soul's 3 Feet High And Rising) and Richard Evans (long time sleeve designer for The Who) contributed designs for tracks from Florence + the Machine, The Cure and Bombay Bicycle Club. Amongst the most in-demand sleeves last year was one designed by The Cure's Robert Smith himself. If you missed it, this is what Secret 7" 2012 looked like.
East London collaborating duo Gilbert & George are perhaps best known for their large scale photo works, known as The Pictures. Jack Freak Pictures is, to date, the largest series of work created by Gilbert & George and depicts East End London, indicated by maps, flags and street signs amongst other items that can be found there.
Chinese artist and activist Ai Weiwei is best known in the UK for his 2010 installation in the Tate Modern's Turbine Hall of over 100million porcelain sunflower seeds. 2012 documentary Never Sorry, directed by Alison Klayman, explores contemporary China and Weiwei's relationship with its government.
SECRET 7''

Secret 7'' combines music and art for a good cause. What we do is take seven tracks from seven of the best-known bands and artists around. We press each of those tracks 100 times to vinyl then get creatives from around the world to interpret artwork in their own style for of one of the 7 tracks; resulting in a one-of-a-kind sleeve for every single one. We exhibit these for a week, then on Record Store Day (April 20) you can get your hands on one, or more, for £40 apiece.
You won't know who created the sleeve, or even which song it's for until you have parted with your cash – the secret lies within.

ART AGAINST KNIVES

ART AGAINST KNIVES works with at-risk young people living in areas of London affected by knife crime and facilitates creative opportunities to help them secure employment, education or training.
ART AGAINST KNIVES was born from the unprovoked stabbing of Oliver Hemsley, a 21-year-old student from Central Saint Martins College of Art & Design. Through creative workshops, we support young individuals with a past in crime who need experience and opportunity to make a permanent positive change. Over the past 3 years we have learnt first hand the devastating effects of knife crime on the individual, their families and the wider community. We have talked to some of those most affected and offered them the opportunity to create solutions, and provided the platform to help ensure their perspectives are understood. Since 2010 we have worked with a range of organisations from youth providers to high street brands to create on-trend, relevant opportunities for over 500 young people. For more information on Art Against Knives please contact, hello@artagainstknives.com