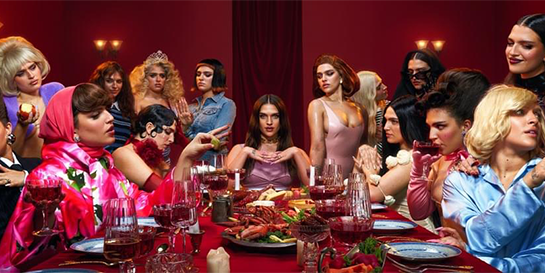 EMI/Capitol's Mae Muller has today released her debut album Sorry I'm Late following a stellar promo campaign which includes an appearance on Graham Norton later this evening.
After announcing the 17-track album back in May, Mae released lead single Me Myself & I, along with tracks Maybe That's Just Life and Written By A Woman, the latter of which was released last week as a thank you to fans while the album shifted back in true Sorry I'm Late fashion.
The album features Mae's dance-pop anthem, I Wrote A Song, which she performed when chosen to represent the UK at Eurovision, as well as her late 2022 singles I Just Came To Dance, and Better Days with NEIKED and Polo G, which has gone on to become platinum in the USA, Canada and Australia and gold in Denmark and New Zealand, also gaining Mae her first UK Top 40 and hitting the Top 10s on US Shazam, Spotify and Apple Music.
Ahead of the album launch, Mae went live on Instagram with Wiwibloggs – a Eurovision fan site with a reach of close to 500k users, to re-engage that audience, before setting up her album playback at 4PS, where she spoke about the album, played unreleased tracks, and did a short Q&A.
EMI senior marketing manager Alia Aldeghather says, "2023 saw Mae represent the UK for Eurovision with I Wrote A Song which, despite a disappointing result in the final, gained her a first UK Top 10 (thanks to both the amazing Capitol and EMI teams) and cemented her as a household name who's loved for her charm, humour and honesty."
She continues, "I've truly never seen an artist work harder; the dedication, strength and humility I've seen from her over the past four years make all our jobs worth it!"
The debut album from Mae - hailed as "the new people's princess of pop" by The Forty-Five - has been garnering rave reviews from outlets including The Guardian, NME, DIY Magazine, Clash, Dork, Buzz Magazine, Glamour UK, The Line of Best Fit, The Times, Sunday Times, The Independent and many more.
Mae has also taken over YouTube appearing on the Cosmopolitan's Spill The Tea channel and The Red Carpet Treatment podcast with Jordan Stephens, before last week appearing on The One Show, BBC Breakfast, and Sunday Brunch where she performed Maybe That's Just Life live. Incredible OOH support has also come in from YouTube, Amazon, and Spotify, with the latter creating a bespoke 'This Is Mae Muller' pre-save billboard based on Mae's multiple-character album creative.
Merchandise formats are available to purchase via her website, with signed exclusive and standard vinyl, alongside CDs, cassettes, hoodies, caps, and t-shirts, including a fun customisable top for fans to write their 'Sorry I'm Late, I was…' excuses.
Over the summer Mae played at several festivals including Truck, Brighton Pride and Sundown and is already looking forward to her debut role in a film in Amazon Prime's Gassed Up, from the producers of Boiling Point, coming in January.