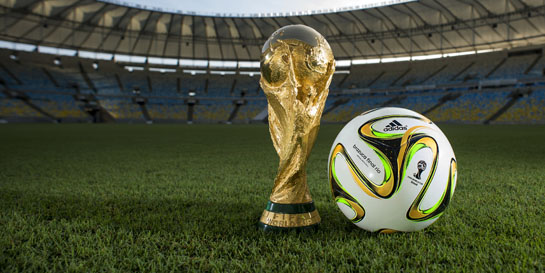 Last week the BBC unveiled Stevie Wonder's song Another Star as the theme for its Fifa World Cup coverage.
The song, with its Latin American vibe, will feature in the opening sequence for all the BBC's World Cup programming and will make its debut on a preview show this Wednesday on BBC1.
It is the first time the Wonder, 64, has given his approval for one of his songs to be used in this way in the UK and negotiations behind the scenes were handled by Paul Veitch, director of creative licensing at Universal Music's Globe division.
The song's use is a strong contender for the biggest "sync" – musical synchronisation - of the year. Paul says, "The song will be heard by millions up and down the UK. It's a perfect fit for the brief and an amazing way to introduce a younger audience to one of Stevie's lesser known tracks. Another Star is guaranteed to become the summer anthem of 2014."
Ian Finch, senior producer for BBC Sport who looks after the music, adds: "This song perfectly captures the feel-good, carnival atmosphere we will bring to our viewers during the World Cup this summer. It is very rare for an artist of this stature to approve the use of their music in this way, so we are thrilled and honoured to have the opportunity."
Another Star originally featured on the Stevie Wonder's Songs In The Key of Life album in 1976 and was released as a single in the UK the following year, reaching number 29. Its use by the BBC will surely give it a new lease of life, a great example of one of the benefits a creative sync can bring.
The art of placing music - everything from massive hits from the 60s to brand new specially recorded music - in movies, TV programmes and commercials has underpinned one of the music industry's biggest growth areas in recent years.
Music's value at enhancing everything it touches is well known, but it is only relatively recently that the sync sector has moved from an ad hoc afterthought to become a fully fledged business spawning its own raft of specialists - from music supervisors to synchronisation directors, such as those who work from Universal Music's Globe division.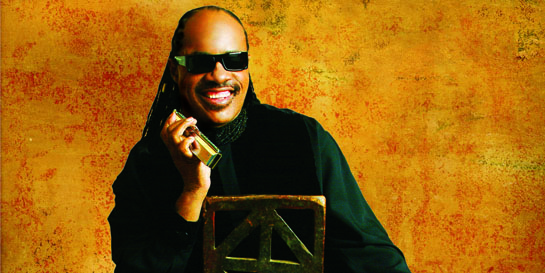 From earnings of next to nothing a decade ago, sync is now estimated to be worth £250m globally and the music industry trade body BPI recently released figures that showed revenue from music placed in TV programmes, blockbusters and ads rose by 3.2% last year, pumping £19m into the UK record industry.
One key feature of sync is that it is completely democratic: although some multimillion pound movies may spend hundreds of thousands of pounds to license a major song, film directors are equally likely to opt for an unknown piece of music if it matches their artistic vision.
Also, with TV series featuring around 10 songs per episode a typical budget is likely to be between £700-£3,000 per song, which means an emerging singer/songwriter might be more likely to get their song placed than a star with big (and expensive) hits to their name.
Sync provides a fantastic platform for new, small or cult acts, which haven't had exposure on the radio. When the music obsessed film director Quentin Tarantino dispensed with a traditional score for his 1994 film Pulp Fiction, he chose the song Misirlou recorded in 1962 by surf guitarist Dick Dale to play over the opening credits. The movie's success - much of it built on Dale's hypnotic riff - propelled the artist's career and an entire musical genre onto the worldwide stage.
To exploit the opportunities thrown up by new movies and TV series going into production, the BPI in tandem with the Music Publishers Association and the Government's export specialists UK Trade & Investment hotfooted it to Los Angeles last week to mount its 10th Sync Mission.
This put around 50 UK delegates in the same orbit as Hollywood's sync elite who have worked with everyone from Ridley Scott to Steven Spielberg.
With sessions, panels and presentations ranging from expert advice on budgets, clearance permissions, re-records, tips on how to pitch music, when to pitch it and who to, BPI director of international Chris Tams says the Sync Mission provided a unique opportunity to "find out first-hand what Hollywood is working on".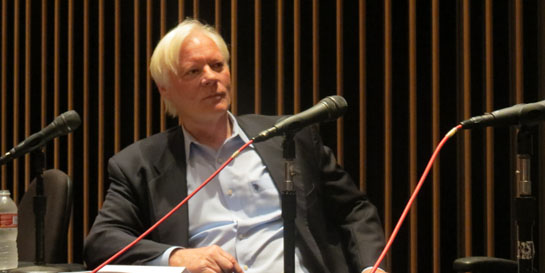 (Above: Miles Copeland at the 10th Sync Mission)
Probably one of the best pieces of advice came from keynote speaker, former manager of The Police and founder of Copeland International Arts Miles Copeland. Copeland said his best sync deal came about by complete fluke.
Although, A&M initially baulked at releasing Sting's track Desert Rose as a single in 2000, the superstar and his Algerian collaborator Cheb Mami shot a video for the track.
When Copeland saw this promo, which featured the new Jaguar S-type, he realised they had inadvertently cut a striking car commercial and he called the car's ad agency to strike a deal: Jaguar cars got Sting and the rights to his new song in a TV ad for free; in exchange Sting's song benefitted from a massive ad budget of $18.5m.
The ad's success finally led to the song's release as a single - becoming a global hit in the process. "This sync was something that broke every rule," says Copeland.
Sensational Syncs:
1. Ellie Goulding's cover of Your Song ensured the John Lewis campaign retained top spot as must-see advertising in 2010 and added 400,000 sales to her album Bright Lights.
2. Robert De Niro makes a unforgettable bar entrance in Scorsese's 1973 movie Mean Streets accompanied by Jumpin' Jack Flashby The Rolling Stones.
3. The Doors 1967 epic The End is forever associated with the Vietnam war following its use by Coppola in his 1979 masterpiece Apocalypse Now.
4. The David and Bacharach song Raindrops Keep Fallin' On My Head won an Oscar after its scene stealing appearance in 1969's Butch Cassidy and the Sundance Kid.
5. Apple's ads helped introduce a generation to a whole host new music as well as a load of cool technology. Willi.am, speaking of the Hey Mama sync, recently said, "In 2003, we hadn't really taken off, and then we did the Apple ad, and boom, it catapulted Black Eyed Peas to a totally different stratosphere.
6. Jona Lewie's 1980 hit You'll Always Find Me In The Kitchen At Parties was an inspired choice to showcase Ikea's 2010 kitchen range.
7. I'll Be There For You by The Rembrandts is universally known as the Friends theme after running over the TV show's credits for decades.
8. When it appeared in a 1991 Levi ad Should I Stay Or Should I Go scored The Clash their first number one single, nine years after its original release.
9. Cadburys Daily Milk chocolate got an 'apeover' when a gorilla pounding a drum to Phil Collins In The Air Tonight made this 2007 ad a YouTube sensation.
10. Often hailed as the greatest ad of all time, Guinness's multi-award winning surfer advert used Leftfield's iconic Phat Planet to great effect.
11. Malcom McLaren's Aria On Air soundtracked the Saatchi & Saatchi created iconic and often parodied British Airways' Face ad in the late 80s.
12. In 1999 Levi's introduced the world to Flat Beat by Mr Oizo with a little help from furry creature Flat Eric. Within of the commercial's launch days the track topped the UK chart.