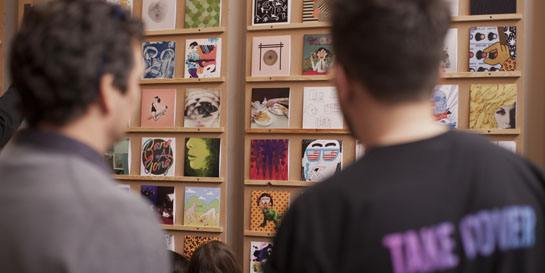 There's a school of thought that the digital age heralded the death knell for album artwork. Not true. As demonstrated by the massive success of the recent Secret 7 exhibition and auction, which saw 700 different single cover designs created by artists including Antony Gormley and Jake and Dinos Chapman, art and music remain very compatible sleeve mates.
Sleeve art and music have been bedfellows since the birth of pop - check out the artwork on Elvis Presley's 1956 debut, which influenced the cover of The Clash's 1979 punk masterpiece London Calling - its apex probably peaking somewhere between the late sixties and mid nineties when 12 inch vinyl ruled the roost.
Way back then, albums would be passed school and hours spent attempting to decipher secret meanings hidden in the sleeve artwork or liner notes.
Album artwork was art. World famous artists, designers and photographers, including Peter Blake, Damien Hirst, Andy Warhol, Peter Saville and Barney Bubbles would happily collaborate with bands to create famous and iconic sleeves, which were then framed and hung in art galleries. Or reprinted in glossy art books. Or reproduced as postage stamps.
Then along came CDs and MP3 files and the challenge of producing something as visually striking as The Beatles' cover to Sgt Pepper's Lonely Hearts Club Band on a 12cm card or as a tiny image on a download store left some designers cold.
Ten iconic album covers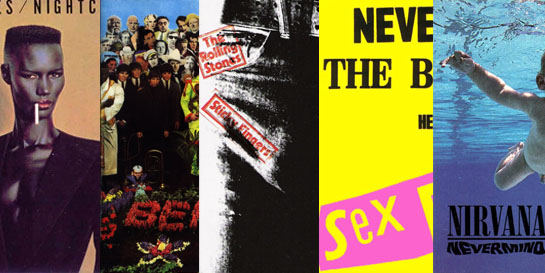 1. Joy Division, Unknown Pleasures by Peter Saville
2. Rolling Stones, Sticky Fingers by Andy Warhol
3. Sex Pistols, Never Mind The Bollocks by Jamie Reid
4. Nirvana, Nevermind by Kirk Weddle
5. The Beatles Sgt Pepper's by Peter Blake
6. Velvet Underground Velvet Underground & Nico by Andy Warhol
7. Patti Smith, Horses by Robert Mapplethorpe
8. Pink Floyd, Dark Side Of The Moon by Hipgnosis
9. David Bowie, Aladdin Sane by Duffy
10. Grace Jones, Nightclubbing by Jean-Paul Goude
However, it would be a very dull musical landscape if every release came packaged in the digital equivalent of a plain white wrapper. And Fiction Records label manager Lisa Ward argues the link between sleeve art and music has never been more important because a band's visual identity needs to shine amongst the deluge of digital downloads.
The appetite of artists and bands to help create artwork in the digital age has also not diminished. Ward suggests the process varies; some acts come to the table bursting with fully formed ideas - she cited The Maccabees project around album Given To The Wild as having a clear view - whereas others want more input.
"Everything is tailored. Some come with a title or lyric and we have to find a way to thread it together," says Ward, adding that the Kaiser Chiefs' recent album title Education, Education, Education & War suggested its own concept. "Sometimes we have provided 60 or 70 images and it hasn't been right and sometimes we can get it right first off," she says. "The initial idea of a record sleeve is to get attention. That is really important because so much comes out now every week. Imagine iTunes with no artwork. How would you figure out what to buy?"
Ward adds the parallels with creating an identity for a new band in the digital space are posters for films, which easily convey a specific genre - horror, rom-com, thriller - with an appropriate image. "A big part of the job is to create talking points," she says, bringing together a consistency of image between an album sleeve, packshot, CD cover and other images associated with the artist or band.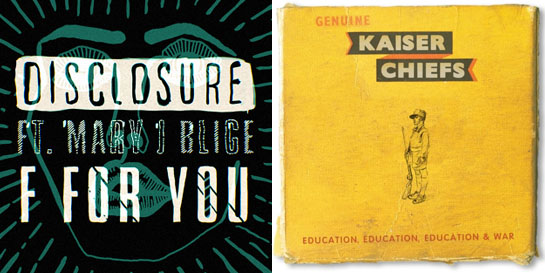 Kate Moross, founder of StudioMoross, who has worked with Sam Smith, Disclosure and Jessie Ware, adds the most important job for a sleeve designer is to provide a mood to fit the music. "It is about the relationship between the artwork and the music," she explains.
The rejuvenation of the vinyl market over the last few years has clearly bolstered the medium and Fiction makes a point of releasing its releases on all formats, giving illustrators and designers a fuller canvas - from 12inch vinyl down to online digital images - to work with.
But, some labels might only offer a track on an download store, which means the accompanying artwork needs to be very clear. However, that can mean a lot of the detailed work seen on older sleeve covers is redundant. "If the artwork is too detailed, can it be shrunk down and will the message still be seen? If people are buying digital they need to see it," Ward adds.
Art director Trevor Jackson, who produced the cover for Beady Eye album BE, agrees. "A lot of things I did in the old days wouldn't work because it has to appear as a two inch packshot on iTunes," he says.
Similarly, Jackson adds that although technology has made it easier for designers to produce slick, professional looking work, a sleeve will only be successful if it communicates a strong idea and concept. "There is a magic and mysticism between images and music. When sound and vision go together it enhances the experience," he says.
And when that harmony works perfectly the iconic record sleeve is born. But, naturally a sleeve can only become famous when the music it partners is as memorable and groundbreaking. "The record sleeve should never be better than what is inside it," cautions Jackson. "There are a lot of shit records out there with great sleeves."