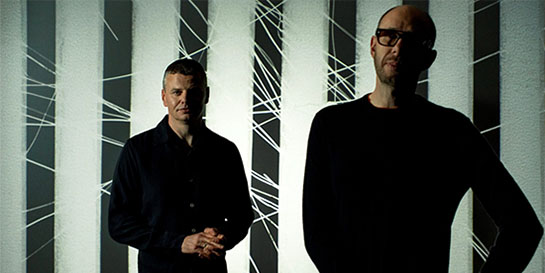 Electronic music legends Tom Rowlands and Ed Simons have celebrated their 30th year as a pioneering dance duo with the release this week of No Geography, their ninth studio album.
The Grammy winners have produced some of the genre's most iconic hits and No Geography, released after a four-year hiatus, is a reconnection with clubland as they focus on momentous beats and manic energy.
The 10 tracks are an overwhelming emotional experience, featuring fewer guests and an increase in traditional songwriting structures - the result is nevertheless a collection of festival smashers. The duo revisited the kit used to record the bulk of their first two albums; equipment that had sat gathering dust in Tom's attic for the last 20 years. Instead of superstar guests, the album features Japanese rapper Nene providing a verse, and the Norwegian singer Aurora supplying cooed vocals.
Virgin's senior marketing manager Sarah Crane says, "As a lifelong fan of The Chemical Brothers it's a real pleasure to work on this project. The album has deservedly received widespread critical acclaim from global press, whilst the visual campaign has once again been world class with videos coming from the likes of the Oscar-winning director Michel Gondry as well Dom&Nic, Ninian Doff and long-time visual collaborator Marcus Lyall. With the album delivering such a fantastic impact this week, fans can now look forward to a summer packed with the spectacular live experience the Chems are known for delivering."
After a three-year break from touring, the duo will embark on a series of arena shows and festival headlines across the global, including Glastonbury, Creamfields and All Points East. They kick off the tour in North America next month - their first US live shows since 2015 - with the UK dates set for November.