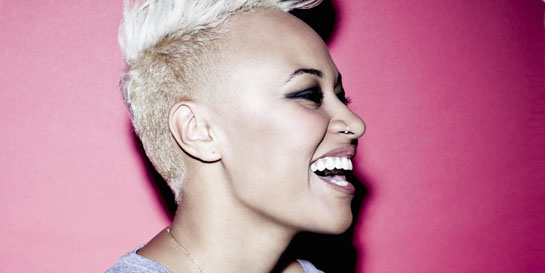 London, March 18th 2013: Universal Music UK chairman & CEO David Joseph has announced the launch of Virgin EMI Records – a creative powerhouse bringing together the newly reinvigorated Virgin Records and its Universal Music sister company Mercury Records.
Virgin EMI Records will be an immediate contender for the UK's number one label, launching with a roster which extends from Emeli Sandé, the biggest-selling artist of last year, to Jake Bugg, the biggest breakthrough artist of 2013 so far, alongside international superstars Sir Elton John, Rihanna, Kanye West, Taylor Swift and Justin Bieber.
Reaffirming its place as one of the most illustrious and diverse labels in the history of British music, Virgin has already been building on the phenomenal success of Emeli Sandé - last week it celebrated a number one debut album with south Londoners Bastille. The label's A&R team has releases lined up this year from widely-tipped Scottish trio Chvrches as well as established names Laura Marling and Empire Of The Sun from a roster which also includes Professor Green and Swedish House Mafia.
The addition of the executives and artists currently working under the Mercury banner means Virgin EMI Records will be home to international repertoire from the world-beating Island Def Jam label as well as Virgin US, next to an extensive and varied domestic roster featuring the UK-signed Arcade Fire alongside Chase & Status. The new set-up also means Virgin, which became part of Universal Music following UMG's acquisition of EMI last year, will return to being a full-service record company for the first time since its heyday.
Virgin EMI Records will operate two distinct A&R and marketing streams - Virgin and EMI, a move which secures the future of the historic EMI name in the UK.
Universal Music UK Chairman & CEO David Joseph says: "Virgin EMI will be a creative powerhouse for the UK music industry. It has an exceptionally strong A&R line-up, with sensational domestic and international artists, combined with the ethos which has served the company so well over the past 40 years."
Virgin EMI Records will be led by Ted Cockle, who joined Virgin as President in January from sister label Island. He says: "Having filled the top two positions in the albums chart this month for the first time since the Spice Girls and The Verve did it in 1998, Virgin is already feeling ready to compete at the very highest level. In the label's 40th year, to have this incredible line-up of British artists and US repertoire of such pedigree it feels like Virgin EMI will have everything in place to help the very best talent flourish fully."
After seven years running Mercury, Jason Iley is setting up an international marketing and management venture and will continue to work closely with Universal Music on some projects. He says: "I've had an incredible journey at Universal, having worked at Polydor, Island and Mercury, and been privileged to work with some inspiring artists and executives over the past 15 years. I look forward to continuing these relationships in a new capacity and wish Ted all the very best with Virgin EMI."
Virgin EMI Records will sit alongside Island, Polydor and Decca as one of Universal Music UK's frontline labels. A fifth company will join the line-up when the Capitol label opens its doors in the UK for the first time – details of this significant label launch are expected by the end of April.
The Mercury label will continue as an imprint within Universal Music.