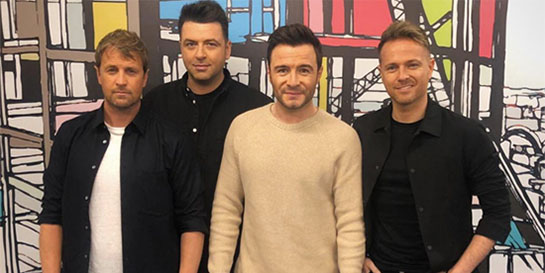 Virgin EMI have put Westlife firmly on course for their eighth UK number one album with Spectrum.
Virgin EMI's senior marketing manager David Balls says, "When Westlife reformed last year, the band were keen to relaunch in a big way by incorporating their original sound with some more contemporary influences. The band teamed up with long-time collaborator Steve Mac, as well as enlisting the likes of Ed Sheeran and James Bay to work on their first new studio album in nine years. First single Hello My Love perfectly set the tone for the Westlife 2.0 comeback – a contemporary-sounding song with a huge chorus that has resonated with their fans around the world and has now amassed over 200m streams globally."
Twenty years since the Irish four-piece first won over the nation's hearts, the boys have sold over 55m records and are the only band to have their first seven singles to debut at number one in the UK charts.
Last week saw the band kick off a packed schedule of release promo starting bright and early with a BBC Breakfast interview on Thursday, before performing on BBC Children in Need on Friday night with their latest single My Blood. The official video for the single, which has featured on 151 Spotify playlists, was trending number two on YouTube. It features the band's children and the first footage of Mark's newborn daughter Layla.
The band continued their promo with an appearance on Strictly Come Dancing on Sunday where they performed their hits Hello My Love, Uptown Girl and World Of Our Own. On Monday morning the boys were interviewed by Holly and Phil on ITV's This Morning before heading over to the BBC studios for Strictly's It Takes Two interview. Next Monday they appear on ITV's Lorraine show and the following weekend on the Michael McIntyre Big Show.
Westlife's comeback has been powered by the stunning success of this summer's Twenty Tour which sold a record 600k tickets across 27 cities and 13 countries. The band have also announced a stadium tour for 2020 which culminates at their first Wembley Stadium show on August 22.