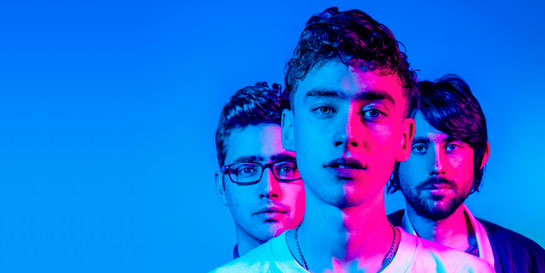 Years & Years have scored a broadcasting world first with a ground-breaking interactive primetime TV ad aired alongside the release of their highly anticipated debut album Communion.
The collaboration between Polydor, Channel 4, MediaCom and The Outfit sees Years & Years offer three alternative videos for their new single Shine. The bespoke ad break runs tonight (July 10) during 8 Out Of 10 Cats Does Countdown on Channel 4 at 9:45pm.
In an ad first, the audience at home will be in control. Using the hashtags #ChooseDark, #ChooseLight or #ChooseShadow, viewers get to choose which version of the video appears on screen.
Viewers' tweets will be counted live during the ad break and tallied every 30 seconds. Alongside the chosen video playing in full screen, the two alternative choices will be displayed as insets and the broadcast will switch seamlessly between these to reflect the performance that Channel 4's viewers most want to see.
The performances will be simulcast to a global audience via the band's official website as well as on Twitter and Facebook and will be available after broadcast as an interactive online video at www.yearsandyearsofficial.com/takecontrol
Years & Years say, "We love the idea of giving our fans control of a music video and the immediacy of it happening live. We had a lot of fun playing with the different themes of light and we hope the audience enjoy experiencing our music in this new way."
Polydor's marketing director Jack Melhuish says, "We're really excited about undertaking such an innovative and attention-grabbing piece of marketing for Years & Years. They are a special band who warrant special, never-before-done activity like this to celebrate the release of their album. It feels like the perfect combination of traditional marketing and social activity. They have such a fervent and socially connected fanbase we're sure it will really resonate with both their existing fans and new audience"
Today's release of Communion comes on the first New Music Friday, an event which marks the start of the new global release day. Fridays now become the most important days of the worldwide music calendar as all new music release dates across the globe are unified, enabling fans in different countries to access new music on the same day.
In a unilateral move across more than 45 countries, new music and albums will be released at one minute past midnight on Fridays, with Years & Years' album release today being one of the very first.
Head over to the New Music Fridays website to find out more - http://newmusicfridays.com/faqs/