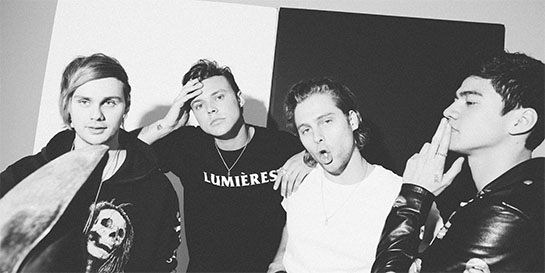 Capitol Records have left no stone unturned in engaging 5 Seconds of Summer's devoted global fanbase in the run up to the release of their third studio album, Youngblood.
Released today, Youngblood follows the band's self-titled 2014 debut and 2015's Sounds Good Feels Good. The album's first single, Want You Back debuted at number one on iTunes in over 18 countries earlier this year and the album's title track has become another hit, with worldwide streams already surpassing 15m.
The Australian group have been documenting the preparation for the release via their YouTube channel, where their viral Cocktail Chats have proved a hit. Tonight, they will celebrate the release in New York with an Apple Music screening of their short film On the Record: 5 Seconds of Summer - which offers a behind-the-scenes look at the making of the new album as well as a special performance.
Capitol head of digital marketing Maddy Smith says, "5SOS have always been a digital first band. They grew their fan base online and we were lucky to still have an incredibly active and engaged audience across their socials as we come in to album three. We didn't want to take this for granted however, so through activations like a global Snapchat lens, which reached 262m people, an always on social content strategy and a vertical video on Spotify we have been super serving our fan base with continual content.
"With the focus track from the album, Youngblood, currently sitting at number 10 on the global Spotify charts we are excited that this band are reaching outside of their core fan base with what's setting up to be a global smash. This is only the start of the story for album three!"
The band have been in London this week to promote the album release, appearing on This Morning and in the BBC Radio 1 Live Lounge.